Thinking about Painting Art Cards? 
Painting art cards has multiple benefits. The painter takes time for reflection and sharpens skills in observation. The card brightens the day of the recipient, who continues to enjoy it. Painting for art cards can be quick and informal, in plein air or a coffee shop, landscapes, still life, or abstract. 
I consulted the following resources for the "Wish You Were Here" art card workshop at Two Hands Paperie in Boulder, Colorado. 
Online Resources
Doodlewash: Home of World Watercolor Month and a thriving community of artists. Led by Charlie Shields, who offers a cheerful painting and post every day
The Watercolor Learning Center: Lots of great resources from Ellen Fountain
Free nature journaling online course with Jan Blencowe 
Angela Fehr: Classes and examples
Landscape painting from David Bellamy. PDF excerpt.
John Muir Laws resources on drawing and nature journaling
Liz Steel is good resource for capturing the urban side of postcard creating.She shares lots of tips on color mixing, drawing, telling a story and feeling comfortable creating out in the world.
Suhita and Shari Blaukopf
both work in sketchbooks but have styles that would translate well to a postcard. They capture in their paintings the places they live and travel in a way that tells a story about the season, place and moment in time. 
Supplies for Painting on the Go
Paints and Palettes
Some palettes come filled with paint. Some are made to simply use until the paint is gone, then discard. Others have plastic or metal pans that can be removed to switch out with other colors, and to refill and keep using.
Others include empty pans, which you can fill using watercolor paints that come in tubes. It is easy to fill your own pans. You fill them with tube water color paints, and let them dry overnight. If you look at the sources listed above, or search online, you will discover lots of approaches for selecting the colors for a palette. You might decide that you need more than one, or that you will change for the seasons, or for travel.
The term "palette" also refers to the sectioned dish you can use to mix paints. They come in all sizes and in plastic or porcelain. For on-the-go painting, the lid of the paintbox works just fine.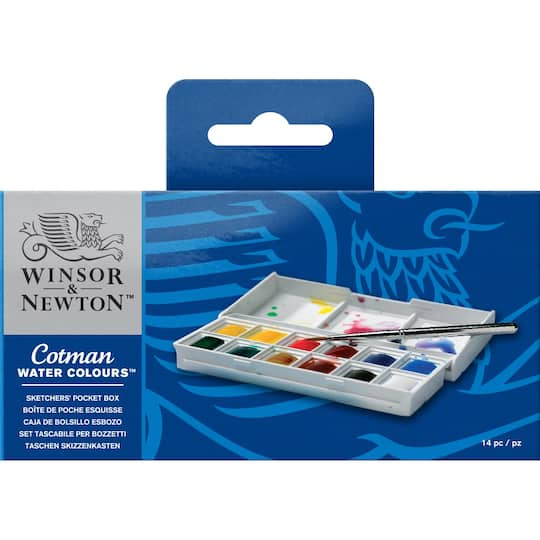 This small Cotman set is great for mobile painters. When you use up the paints, you can refill the pans with paints from tubes. Cotman paints come in 40 colors, so you can customize your palette to your liking. If you are in Boulder, Two Hands Paperie carries these sets.
The Portable Palette is a fold-up plastic painting set up, and the stand doubles as a water reservoir.
This type of empty palette comes in all sizes, from this small one to styles that fit 48 pans. 
Pans are removable in these options so you can easily change your color combinations.
If you want to be really mobile, you can buy or make tiny palettes in mint tins. Here is a how-to tutorial and detailed description of options on the Scratchmade Journal website.
This set of brushes offers a flexible assortment. Another travel option is the type of brush that has a protective cap. See a review of travel brushes on the Scratchmade Journal site.
Join the DIY Creative email list for occasional notes about workshops or resources to share. Never sold, no spam!